Friday, February 18, 2011
Avery Glass & Mirror Installs Automatic Glass Edging Machine for Improved Productivity
The biggest improvement in our new place, besides the huge roll-up door and its location right across the street from Farrey's Lighting & Bath, is the brand-new automatic edging machine we have installed. Previously, we had been grinding and polishing everything by hand, which is extremely time-consuming and generates an incredible amount of dust. We have just started using the machine to polish table tops and mirrors, and everyone is very happy with the result - much better quality in a fraction of the time! We're wondering why we didn't get it sooner!
Below is a photo of our wonderful new investment the Somaca/CR Laurence Single Spindle Automatic Glass Edging Machine, manufactured in the USA. Stay tuned for videos of it in action!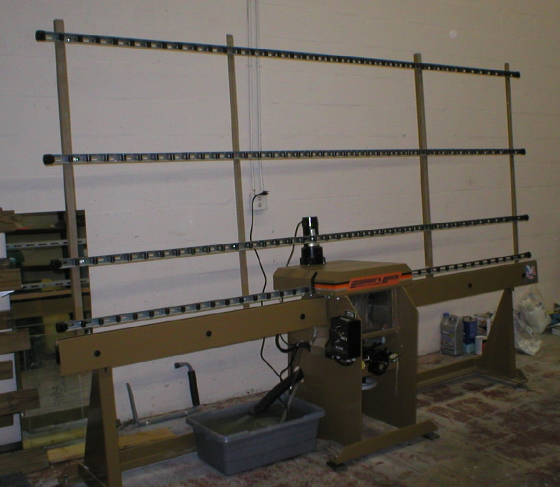 18 feb 11 @ 5:10 pm est
Thursday, February 17, 2011
Help Us Move! Buy Our Glass!
Our move to our new location is underway.
You can help us and get some great deals in the process by buying the things we would rather not move (glass is fragile and heavy!). Contact us today or stop by and ask about our bargains.
We have a number of table tops, mirrors, windows, shower doors, commercial doors and plexiglas remnants at great prices


For example, we have 2 heavy duty used commercial doors, shown below, priced at $200 each or both for $300.
We have lots of Plexiglas and Lexan remnants in thicknesses of 1/8," 3/16" and 1/4" in a variety of colors and sizes.
Our one-of-a-kind decorative European art glass accessories, including vases, candlesticks, perfume bottles, plates, candlesticks and pendants are drastically marked down, and we can ship anywhere in the world. Stop by and take a look and pick up a great gift. Below is a small sample of the pieces we have in stock.
17 feb 11 @ 11:09 am est
Wednesday, February 16, 2011
Avery Glass Export for Nassau Bahamas Airport Expansion
It was down to the wire, but with the help of Downey Glass and Tropical Shipping we completed the on time production and shipping of tempered glass and hardware for installation at the Lynden Pindling International Airport in Nassau, Bahamas. Our customer, Chandlers Cabinets and Millwork of Charlottetown, Prince Edward Island, Canada, will install the material in display cases, just in time for the opening of the airport's new terminal. Chandlers specializes in the design and manufacturing of architectural and commercial millwork, engineering and drafting and is performing work in several different areas of the airport's expansion. The new terminal, about to open, is the first stage of a three-stage expansion, scheduled to be completed in 2013.
16 feb 11 @ 6:53 pm est
Friday, February 11, 2011
Glass Railing -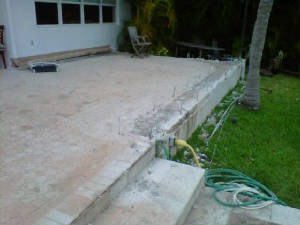 This brick patio will be transformed into a thing of beauty when a glass railing is installed. Keep watching for updates!
11 feb 11 @ 5:41 pm est
Thursday, February 10, 2011
Emergency Display Case Repair at Palm Beach Polo & Country Club
Today we completed the emergency repair of two Roberto Coin jewelry display cases for Gilbert Displays at the Palm Beach Polo and Country Club in Wellington, Florida. The job was completed on time and to the satisfaction of the customer, in spite of the presence of "Murphy's Law" as usual whenever we take on a rush job. Defective materials and missed deliveries by normally dependable suppliers conspired against us, but our always persistent and resourceful installers prevailed once again!
In the first display, shown below, we replaced 4 panels of 3/8" tempered ultra-clear low-iron glass and secured them with ultra-violet (UV) glue. Low-iron glass is especially popular for high-end jewelry displays because of the greater clarity and truer color it provides for the objects being displayed.
We replaced 4 broken and scratched acrylic (Plexiglas) panels with stronger and more scratch-resistant polycarbonate (Lexan) in the display case below (shown with protective paper still on). Our glass installers demonstrated their versatility performing some unanticipated carpentry repairs on the wood base of the case.
Repair of display cases requires considerable skill and patience and should not be rushed!
10 feb 11 @ 6:24 pm est
Wednesday, February 9, 2011
Elegant, Sleek and Easy-to-Clean Hydroslide Tub Enclosure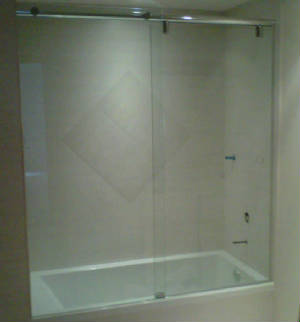 We just finished installing this beautiful, European-style Hydroslide frameless tub enclosure in a condominium in Bal Harbour. The unit is completely frameless except for the metal header at the top which supports the fixed panel and sliding door, and the small glass guide at the bottom. It has no side or bottom track like a traditional sliding door, making cleaning much easier since there is nowhere for dirt or mildew to collect. The system can be used with showers or tubs in several different configurations, including 180 or 90 degrees for wall-to-wall or corner installations.
Add a clean, modern look to your bathroom with a Hydroslide enclosure. To see more examples of our Hydroslide and other glass shower and tub enclosures,
click here
.
9 feb 11 @ 9:29 pm est
Technology is Great - When It Works!
We are not a high-tech company, but we are highly dependent on technology. This became painfully clear yesterday. Our website server was down for a good part of the day and consequently our website had only half the normal number of visitors and the volume of phone calls received was lower than normal.

We also spent the day reinstalling software on one of our computers, which had been wiped out by a virus posing as an anti-virus. We thought we were protected, but somehow it got through! A whole day of wasted productivity, as well as increased levels of stress and anxiety. At least we had the data backed up on line!

Our 2-line speaker- and cordless phone system may not be the height of technological sophistication, but until recently it had served us quite faithfully. However, after almost 5 years of heavy use it appears to be getting rather tired. It is behaving quite erratically, dropping calls and giving poor reception. We just hope it will hold out for a few more weeks until we can get our new internet phone system installed and functioning.

We love technology!




9 feb 11 @ 7:02 am est
Monday, February 7, 2011
Future Site of the New and Improved Avery Glass & Mirror!

This is it! A beautiful roll-up door opening into the workshop/warehouse and very nice office area with a glass entrance. It may not look like much, but we think it's great. We can't wait till we're moved in!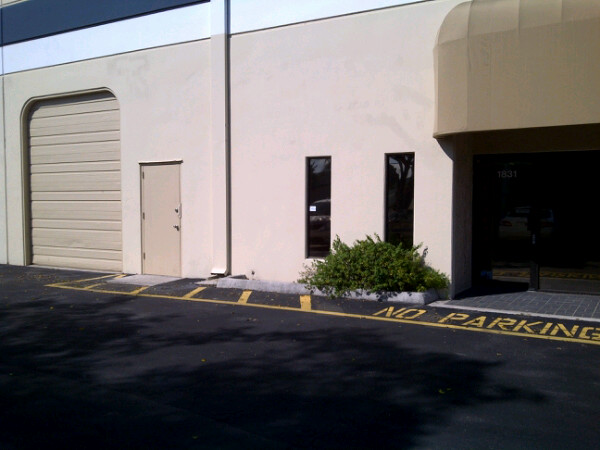 7 feb 11 @ 6:07 pm est
Sunday, February 6, 2011
Update on Our Move

We are busy preparing for the move to our new location, which we plan to complete by April 1 at the latest. It's a lot of work, but we're making progress. Last week we received our Certificate of Use from the City of North Miami without any complications and passed our Miami-Dade County fire inspection (after updating our fire extinguishers and installing emergency lights). This coming week we'll attack the Business Tax Receipt (formerly known as the Occupational License) from both the city and the county. We don't anticipate any surprises there.

The office space is taking shape, having been painted a nice light ivory over the existing dingy brown (imagine working in a brown office!). The carpets have been shampooed and look almost new. We've started moving furniture in, and the only important "detail" left to resolve is our telecommunications system.

Given AT&T's lack of DSL availability in the area (hard to believe, but we checked twice), we will be switching to Comcast and are hoping for the best. We plan to use an internet phone system, but haven't settled on a specific one yet.

Preparation of the warehouse/workshop is also moving forward. We stripped the hideous old linoleum tile and then met tough resistance from the red paint that was beneath it. Pressure washing, stripper and lots of scraping got rid of most of it. We received and set up a brand new glass polishing machine, which should increase our productivity enormously and eliminate a lot of dust.

Our "new" tilt top glass cutting table arrived and will be "refreshed" with a new carpet, and we have received several high-quality A-frame glass racks from companies that have closed. What's left? Installing wall racks for metal extrusions to keep them out of the way, in good condition and capable of being found when we need them!

We will be recycling everything we can at our new place, something that is very difficult at our current location, since we do not "control" our garbage. We're happy that we will be able to be better corporate citizens and take our first step toward being a truly green company. We are looking forward to the day when our glass will be recyclable, too.

Stay tuned for more updates and photos!



6 feb 11 @ 7:38 pm est