Monday, March 28, 2011
Update Two Weeks After Our "Official" Move: Steady Progress

It's been two weeks since we officially started operating out of our new location and things are improving every day. We've added lots of glass racks, storage hooks and shelves and the increase in organization and efficiency is clear. Our edging and polishing machine is doing beautifully and we can still hardly believe the drastic reduction in the amount of glass dust generated during grinding and polishing.

The main problem we are facing is our phone system, which is dropping a huge number of calls. It appears to be a problem of conflicts from dueling routers, but this hasn't been confirmed. At least the caller ID works great, so we know exactly who isn't getting through. We're confident the problem will be solved shortly and we love our phone system when it works!

Other less serious annoyances related to moving include confusion between AT&T and IPfone over exactly when the porting of our number will be finalized (the number has been ported but "the system" at AT&T still shows the account as frozen), changes of address that haven't gone through and listings on various internet directories showing our old address and over which we have no control.

We've just hired a new installer to help us with the increased workload. We are also using an administrative temp to help with customer service and accounting.

All in all, even though the move has been a lot of work and quite exhausting, we think it has gone quite well!
28 mar 11 @ 6:38 pm edt
Tuesday, March 15, 2011
New Telecom System Almost Completed

Our fancy new internet telephony system from IPfone was installed today and we think it's pretty impressive. It's integrated with Microsoft Outlook and has all kinds of great features like conference calling, intercom, extensions and individual voicemail. A far cry from what we've had until now! We're scheduled to have our phone number ported from AT&T on the 17th and then we'll be all set. We'll be a real 21st century glass company!
15 mar 11 @ 6:11 pm edt
Monday, March 14, 2011
We Survived Our First "Official" Day at Our New Place

Everything is up and running, except our new phone system, so please excuse our makeshift arrangement for the next few days. We have only one main line and a couple of Magic Jacks, so don't be surprised if we call you from an unfamiliar number or you receive a strange voicemail greeting. We are trying our best until we get completely organized.
14 mar 11 @ 5:40 pm edt
Saturday, March 12, 2011
Tying Up Loose Ends with Our Move
We are up and running at our new location as we rinish up the move from our old location. We are moving all of our glass racks, which had to be dismantled completely in order to fit through our tiny back door (lack of a roll-up door was a key reason for moving. In the photo below, Rolando and Carlo are hammering away.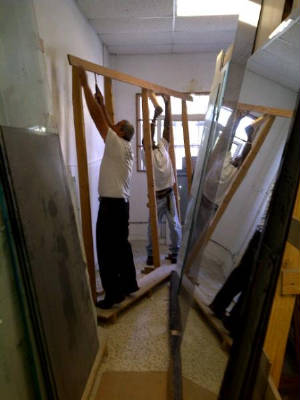 12 mar 11 @ 12:49 pm est
Saturday, March 5, 2011
Art Glass Moving Sale
We are continuing our European art glass sale at 813 NE 125th Street until March 31, where you can pick up beautiful, one-of-a-kind glass creations at unheard-of prices!
This 6" perfume bottle, from the Inspira Cameo Collection, is mouthblown, hand-painted and acid- and wheel-etched and specially priced at only $49 (suggested retail price $175). Available in several different designs, including "dragonflies and waterlilies" shown here.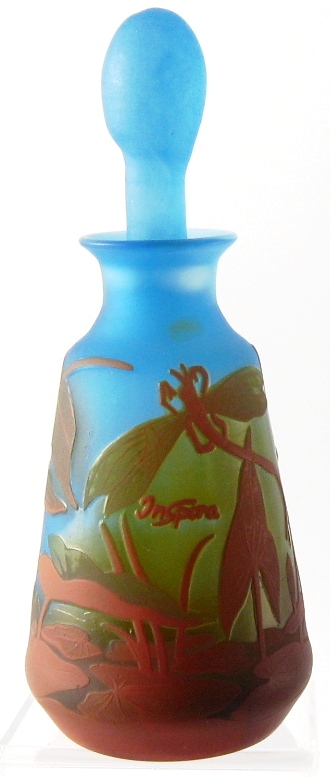 5 mar 11 @ 9:08 pm est
Opening at Our New Location Ahead of Schedule Monday, March 7
After a productive Saturday of cutting, polishing and installing glass and mirrors and moving office furniture, files and computers, we have decided to begin operating out of our new location at 1831 NE 146th Street, North Miami, FL 33181 on Monday March 7, a week earlier than originally planned. Customers who ordered before March 1 may still pick up their merchandise at our old location, but all subsequent orders must be picked up at our new location. If you have any questions regarding your order, please contact us at 305-891-7734 or
info@averyglass.com
.
5 mar 11 @ 8:34 pm est
Thursday, March 3, 2011
Update on Our Move - March 14 is the Official Day!
We just had our sign installed today by Modern Display Signs and they did a beautiful job, don't you think? People should have no trouble finding us now!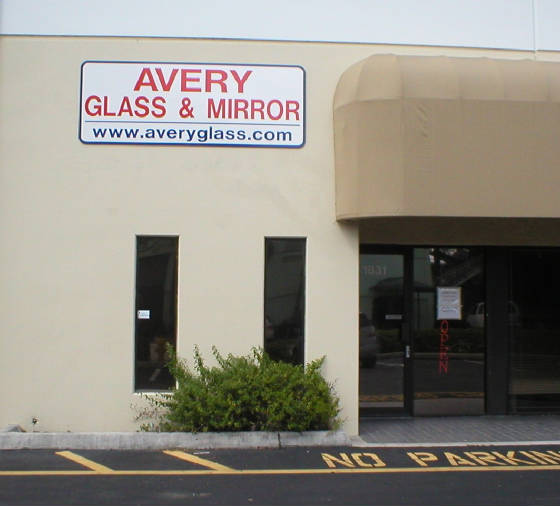 We are still operating out of our store on NE 125th Street but the cutting and polishing is all done at our new location. Our "official" moving date is March 14, and we are scrambling to make sure that everything is ready.
Our European art glass sale is still going on at our NE 125th Street location. Pick up a great gift or home accent piece!
3 mar 11 @ 3:12 pm est