Thursday, March 28, 2013
New Glass Door for Westin Coral Gables
We recently installed this 1/2" glass door with 63" double-sided stainless steel ladder pull handle. It's in the newly remodeled fitness center. Looks good, doesn't it?

28 mar 13 @ 4:22 pm edt
Tuesday, March 19, 2013
Frameless Floor-to-Ceiling Shower Installation
This beautiful frameless corner shower enclosure was installed today. Clear 3/8" tempered glass was used, secured to the ceiling and the floor with chrome clamps.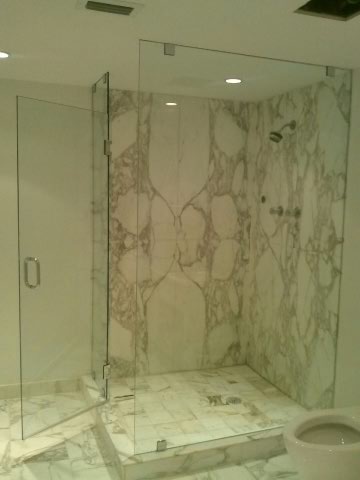 19 mar 13 @ 5:50 pm edt
Friday, March 15, 2013
Today's Residential Railing Installation
1/2" clear tempered glass anchored using aluminum shoe system. Brushed stainless steel top rail.
15 mar 13 @ 5:26 pm edt