Saturday, October 30, 2010
Avery Glass Gallery Getting Ready for the Holidays
In case you didn't know, Avery Glass & Mirror has an art glass gallery filled with beautiful, one-of-a-kind pieces, including vases, lamps, perfume bottles, candlesticks, bowls, plates and jewelry, exquisitely crafted by master European (specifically European) glassblowers. Artists and collections represented include Puscariu, Barna, Topescu, AMA Art Glass and Inspira Cameo Glass. Styles range from Art Deco and Art Nouveau to Contemporary.

These pieces make wonderful gifts and original home accent pieces. They are available for purchase in our retail store or our soon-to-be-completed online store. Click here to shop online, or stop by and see them in person. We ship worldwide.

We are located in the heart of the North Miami (NoMi) Art District, close the the Museum of Contemporary Art (MOCA) and a wonderful collection of art galleries and Mid-century Modern furniture galleries. We invite you to visit the area. We're sure you'll find it fascinating and full of surprises.

Here's a little sample of our offerings:


30 oct 10 @ 9:04 pm edt
Friday, October 29, 2010
Jazz at MOCA tonight - NOMI Art District Galleries, Studios & Shops Open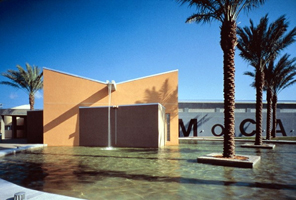 The Mushy Widmaier Quartet will perform tonight at 8 pm at North Miami's Museum of Contemporary Art "Jazz at MOCA" monthly free concert series.

Stop by for some great music and visit the MOCA galleries, open by donation until 10 p.m.

Stroll the neighboring galleries, studios and stores on NE 125th Street and meet the dynamic, creative people behind them.
29 oct 10 @ 12:01 pm edt
Thursday, October 28, 2010
Does Your Door Look Like This?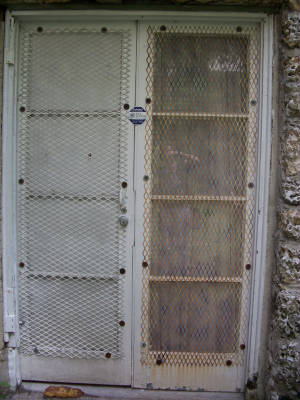 If so, you might want to think about replacing it with a beautiful hurricane impact full-view French door. Hurricane season is almost over, so be prepared for next year! Add beauty, security and peace of mind to your home, and get a break on your insurance rates.
28 oct 10 @ 8:44 pm edt
Glass, Glass and More Glass
Tomorrow we have another busy day of delivering custom glass pieces both large and small. On the small side, we will be taking 62 pieces of tempered glass to
Macy's
-
Aventura Mall
to be used in their holiday displays. On the large side we have a 3/4" x 84" round low-iron table top for
Jalan Jalan Collection
, weighing in at over 250 lbs. We're lucky we have some pretty strong guys to deliver it!
We continue to work hard on several projects of custom tempered glass for export (railings, shower enclosures) and have picked up a couple of very good new vendors. As always, there is a steady stream of customers coming through our doors looking for glass, mirrors and advice for their do-it-yourself projects.
We have seen a significant increase in activity lately from both snowbirds and locals. We hope it lasts!
28 oct 10 @ 8:15 pm edt
Wednesday, October 27, 2010
Getting Ready for Miami Heat Home Opening

Today we spent all day replacing glass and acrylic in sneeze-guards on food carts and tomorrow it's delivering 62 glass shelves to the executive chef. Why? Friday is the season home opener of the Miami Heat vs the Orlando Magic at American Airlines Arena. Lots of food for players and fans! Will the Heat win?
27 oct 10 @ 9:03 pm edt
Tuesday, October 26, 2010
Avery Men at Work on Latest Glass Railing Project
Experience, precision and teamwork are essential for the successful installation of a glass railing like the one in the photo below. Our technicians are true professionals, paying careful attention to every detail of a project from beginning to end.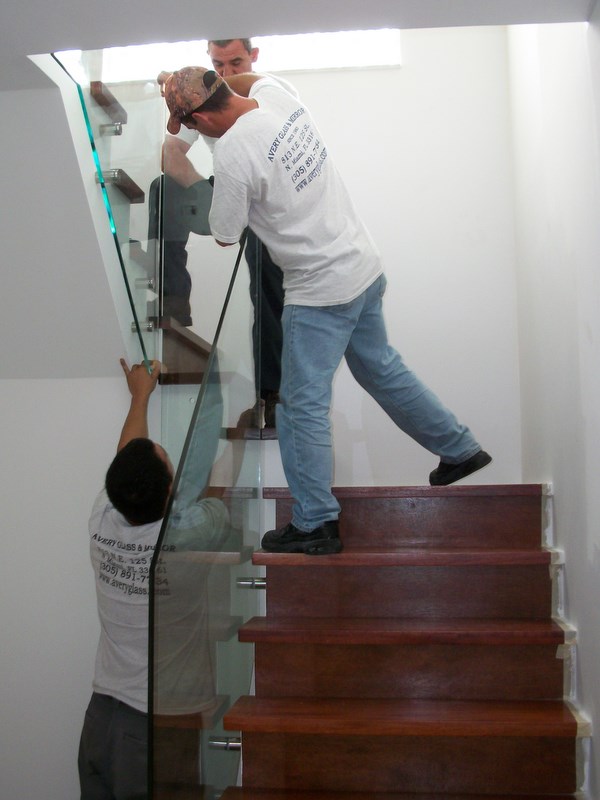 We wanted to show them in action, even though the project isn't completely finished. Stay tuned for photos of the completed project!
26 oct 10 @ 6:50 pm edt
Custom Mirrors to Dress Up Furniture
An already-interesting bed frame was made even more original when we covered it completely with 1/8" mirror. There are 62 pieces in total, each individually cut and polished by hand. The customer, a designer, was very happy with the result: a truly one-of-a-kind piece unlike any we have seen.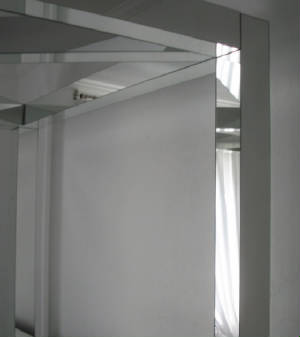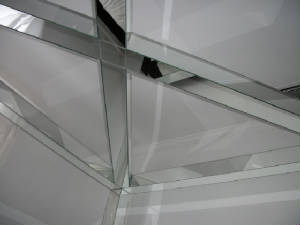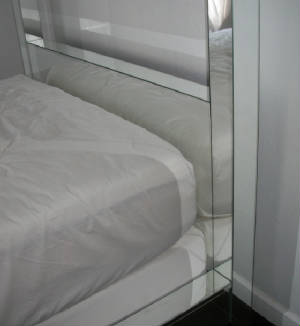 Just about any piece of tired furniture can be dressed up and given new life with mirrors. If you have an idea for mirrored furniture, let us know. Ask us about antiqued and color mirrors, too.
26 oct 10 @ 5:00 pm edt
Sunday, October 24, 2010
Back-painted Glass Backsplashes, Walls, Table Tops
Back-painted glass gives a dramatic look and is a durable surface that is easy to clean and maintain. It is available in all colors, but in order to obtain a true match, low-iron (ultra-clear) glass should be used. The photograph below shows white back-painted glass which has a greenish tint because regular glass was used. The design used individual pieces installed with standoffs for a very high-tech look.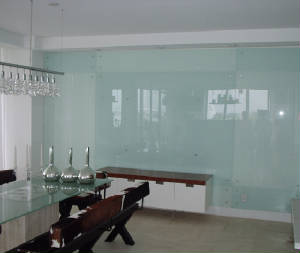 Back-painted glass is also very practical for kitchen backsplashes. The backplash shown below was done with low-iron glass, so the result is a much truer and less greenish white.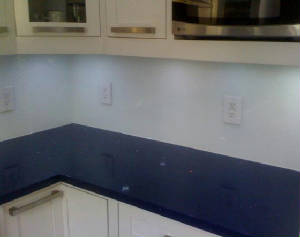 Back-painted glass is also an option for table tops. The photo below shows a 1/2 x 42 x 60 oval glass table top back-pained white. It is available in our showroom for immediate delivery.
Please contact us if you would like to learn more about back-painted glass walls, backsplashes or table tops.
24 oct 10 @ 6:52 pm edt
Some Useful Information About Tempered Glass
Tempered glass, a type of safety glass, is created from regular float glass through a controlled process of extreme heating and rapid cooling. It is 4 to 5 times stronger than regular glass and and more resistant to heat. When it does break, tempered glass shatters into lots of tiny pieces, rather than large sharp shards, and is much less likely to cause injury. Glass shower doors and enclosures are made of tempered glass, for obvious reasons, as are glass railings, stairs, partitions and commercial storefronts and car windows. Tempered glass is also recommended for table tops and shelves that will be subject to heavy use.
The weak spots of tempered glass are its corners. Hitting the corner with a hammer will cause the entire piece to shatter, as will hitting the corner on a sharp surface, such as a marble floor. This is exactly what happened to the glass panel in the photo below (this was NOT an installation by Avery Glass & Mirror!):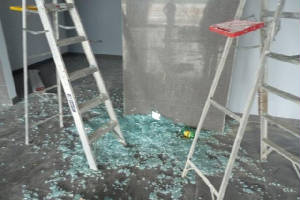 It is thus very important to protect the corners of tempered glass during transport and installation, as an exploding piece of tempered glass can cause serious injury and damage (not to mention the expense of replacing a large 3/8" or 1/2" glass panel).
For additional information on tempered glass, please
click here
or contact us.
24 oct 10 @ 12:19 pm edt
Tuesday, October 19, 2010
Using Metal Cladding to Change the Look of a House or Building
We've been doing a lot of metal cladding lately on different types of storefronts for a modern, attractive look. A thin layer of metal is applied to an existing surface as a sort of "skin" to protect against the elements or for strictly aesthetic purposes.
The photo below shows hurricane impact sliding glass doors which originally had white frames. The customer had wanted stainless steel, which was unavailable for these doors. We clad the entire exterior metal frame in stainless steel, covering the white and resulting in the sleek,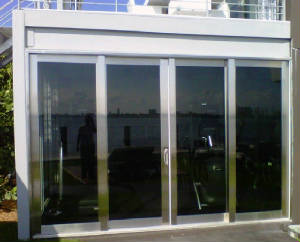 modern look you see here. For the moment, the interior metal is still white, but the customer is so happy with the look that she is intends to clad the inside, too. In addition, we clad several unattractive and uneven concrete and steel structures inside the house in stainless steel. Combining the stainless steel clad with the interior glass doors and frameless shower enclosures (also installed by us) helped to create very futuristic and clean interior spaces in a truly unique house.
Metal cladding is particularly useful for covering up worn storefront metal and giving it a fresh new look. It's a lot less expensive than installing a new storefront!
19 oct 10 @ 6:38 pm edt
Monday, October 18, 2010
A Wonderful (and Happy) Customer
Today we had one of the nicest and most gracious customers ever. He was a 92 year-old former Air Force pilot and World War II hero who had broken the glass on his medal display frame and wondered if we could fix it. He was very worried that we might cut ourselves on the broken glass, so we assured him that we were experienced in handling broken glass and not to worry. We replaced the small piece of glass (not much larger than 8 x 12"), returning the display and the medals inside it to their former splendor. Our customer couldn't contain his delight and wanted to pay us extra! (we declined politely). He told us he was very happy with our service would call us about installing a frameless shower in his condominium as soon as he talked it over with his wife (of 70 years).

Granted, this was a small project and not very expensive, but after hearing "can you do better?" so often, regardless of the size of the project (whether $20 or $20,000), it was refreshing and encouraging to come across someone who appreciates quality and puts it first. We hope to see more customers like him!


18 oct 10 @ 6:45 pm edt
Sunday, October 17, 2010
A Busy Week Ahead

Our most important project this week is finishing the installation of a stair railing system in South Beach that was abandoned by the previous glass company before they even began it. They had gotten off to a questionable start by installing "hurricane impact windows" which were simply impact glass installed in regular frames. The building inspectors must have loved that! It's not the first time we have been hired to fix a project that was botched by a company offering to do a project for a price that was just "too good to be true." Here's a photo of the work in process: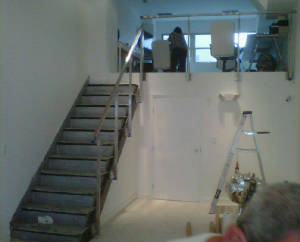 Other projects for the week include two complicated mirror jobs, one using antiqued mirror made in Louisville, KY (much nicer but also quite a bit pricier than the Chinese-made stuff) an the other with sand-blasted mirror.

We plan to complete another 1/2" glass railing on standoffs in the next few days and are keeping our fingers crossed that the glass will cooperate by not exploding during tempering (always a possibility, especially when there are holes). These projects require extreme precision and care when measuring, placing the holes in the glass and installing the standoffs in the wall. If they are off just a little it means wasting an expensive piece of glass and a lot of time. You can see details of some of the glass railings we have completed on the "" page of our website.

The Region 3 Annual Planning Conference of the National Association of Women in Construction (NAWIC) will be hosted by Miami NAWIC Chapter 41 at the Mayfair Hotel and Spa in Coconut Grove this coming Friday to Sunday, Oct. 22-23. The event will present The carnival-themed event promises to be full of many opportunities for networking, education, business and FUN. For information see the NAWIC-Miami website: http://nawicmiamifl.org/home. We plan to attend!

17 oct 10 @ 10:40 pm edt
Twitterfeed Issues with Facebook
Twitterfeed is working from blog to Twitter but not to Avery Glass Facebook page. Any advice? The settings look OK on both sides.
17 oct 10 @ 7:04 pm edt
Getting Blog, Twitter, Facebook and Linkedin to Work Together
This is a test. How did we do?
17 oct 10 @ 6:20 pm edt